High Speed Pick and Place Machine CPM H3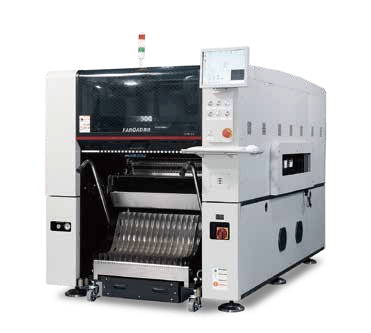 Flexible configuration of the placement head
CPM-H3 Configure high-speed and multi-function placement heads according to product characteristics.
Fully closed loop precision control system
Adopt double linear motor and rating ruler configuration to realize full closed-loop control on equipment accuracy.
First to use industrial linear cameras
Scanning Identification system
Automatic correction system 
Thermal Compensation correction device
Automatic correction system
Thermal compensation correction device
Belt automatic shear collection device
Make production more efficient and more convenient
Support MES system
Through the MES system, intelligent management of equipment production, quality, efficiency, etc. can be realized, and the enterprise's manufacturing execution ability can be improved!
Adopt Advanced assembly technology to ensure the quality and stability of equipment
One piece molding rack

Cast one-piece frame is adopted, stress is relieved by natural aging of 365 days and the high-temperature annealing process is adopted to prevent thermal deformity of high-speed movement.
High-speed response and high precision full closed-loop control

Y-axis adopts a dual linear motor drive and grating scale configuration to achieve a high-speed response. high-precision full closed management
Dual arm configuration

Single track and double track operations are flexibly used through the dual arm configuration and the two sets of placement heads are independently controlled to minimize the interference area between the two placement heads and improve production efficiency.
Support dual track option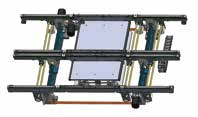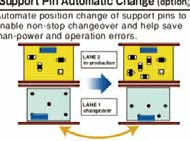 Pick and place machine cpm h3 Support dual track option, independent control of transmission system, realize seamless switching of substrate transmission no time for plate transfer, support simultaneous production of two different substrates and reduce line change frequency.
Magnetic Levitation linear motor and grating ruler

using the advanced linear motor configuration in the industry the linear motor has less ear higher precision longer service life and fully guarantees the stability of the equipment
Trolly Installation

Newly designed fast-moving trolleys can be prepared in advance. One touch line changes 50 stations for a single cart of 48mm feeder.
IC Tray feeding system

Newly upgraded IC cabinet (Tray  Cabinet) adopts servo high precision slide rail type tray feeding supports up to 20 trays and supports online nonstop tray change.
Light and smaller electric feeders

0.035mm, cpk > 1.0 Support 8/12/16/24/32/44/56/72/88mm feeding, newly designed precision feeder to achieve feeding accuracy of 0.035mm, cpk > 1.0.
Tube Feeder

The newly upgraded vibrating feeder has a more stable vibration frequency and can flexibly respond to the feeding needs of various tubular materials.
Automatic nozzle exchange optional

Standard 10 nozzle high-speed placement head can simultaneously correspond to 0201 tiny chips up to 12 * 12mm large components. The 4 spindle multifunctional heads can place up to 01005 to 60 * 40mm large chips and heterosexual components.
High Precision thermal compensation calibration device

High-precision thermal compensation correction devices can monitor and automatically correct the placement accuracy in real time to ensure the stability of the high-speed operation of the pick and place machine.
Apical Plate


Electric top plate structure realizes digital adjustment the upper and lower splints are more stable and the pressure is controllable.
Flexible placement head collection


Standard 10 nozzle high-speed pick and place machine placement heads can simultaneously correspond to 0201 ting devices to electronic components within 12*12mm and 4 spindles multifunctional placement heads can correspond to 01005 to 60* 40mm large chips and heterosexual components.
Light Source Controller


Self-designed light source controller matched with high-resolution industrial cameras to achieve higher precision faster response and stable placement. the flying camera of pick and place machine can identify and correct all chip components in the high-speed placement process and the size of the components can be identified within 12 * 12 mm.
Compatible components


Intelligent Software System
Free component Editing for nonstandard chips

Newly developed intelligent digital alignment algorithm to realize one-click-free editing of nonstandard devices / special shaped irregular components.
Coordinate import 
One-click import of mounting coordinates can be realized through text files such as format and excel files
Support MES system collection
Though MES system can realize intelligent management of equipment production, quality, efficiency, etc. Improve enterprise manufacturing execution capabilities.
Path Optimization

newly added intelligent algorithms such as the ant colony algorithm/cluster analysis. A deep learning automatic optimization of the best path for suction and placement and achieving the best equipment utilization rate.
Lan management 
Local area network management, software database, and online machine database exchange and update. Realize LAN transmission to prevent U disk virus transmission.
Support MES upload
Mes upload supports automatic identification of QR code or bar code after placement is completed and upload to MES server to achieve traceability.