CPM-II mechanical structure + maintenance


Pick and Place Machine Maintanence
Notes on this specification
Please read this manual carefully before using this equipment , and fully understand the contents of the manual before operating.
Personnel who have not received training on this equipment are forbidden to operate this equipment .
It is forbidden to copy or reprint part or all of this information.
Due to improved machines and software upgrades, data may be changed without notice
When using, please understand the specifications and limitations of the equipment and software in detail before proceeding. For poor production, waste of costs and personal injury caused by incorrect operation or modification of the equipment without the consent of the company, the company No responsibility is assumed.
The company developed the product patents, copyrights and other intangible property rights involved, of the Company reserved.
Microsoft and Windows are registered trademarks of Microsoft Corporation in the United States and other countries.
Other company names and product names are trademarks or registered trademarks of each company.
When resell or moving the device, be sure to contact the agency or company.
If you have questions or comments concerning this information, please contact us.
Specifications and performance
| | |
| --- | --- |
| power supply | ・Rated power supply 3- phase 4-wire AC 380 V ± 10 V · Frequency of 50 Hz ・Rated capacity 3 kVA |
| Air pressure source | ・Supply air pressure Min. 0.49 MPa ~Max. 0.78 MPa ( Operating pressure Min. 0.49 MPa ~Max. 0.54 MPa) ・Supply air volume 150 L/min [ Standard ] ( ※ ) ・           Maximum air consumption 150 L/min [ Standard ] ( ※ ) When using the following options, an additional air pressure source is necessary. • Intelligent bulk material rack : 8 L/min for 1 station [ Standard ] ( ※ ) ( ※ ) [ Standard ] (ISO/DIS 5598) Temperature : 20 ℃ Absolute pressure : 101.3 kPa Relative humidity : 65% |
| Equipment size | 1380mm(W)x1826mm(D)x1465mm(H) Does not include status indicator lights, keyboard trays, and carts |
| weight | ・Total weight (with material car)      15 00 ㎏ |
| Environmental conditions | ・Temperature 10 ℃ ~35 ℃ ・Humidity 25 % RH ~75 %RH ( but no condensation ) · Height above sea level 1 000 m |
| Finishing color | Standard color white |
| way to control | ・Microcomputer method ( windows7 / windows 10 ) Semi-closed loop mode of AC servo motor (X, Y, Z, θ axis ) |
| Instruction method | ・X, Y, Z, θ coordinate designation |
| | |
| --- | --- |
| Mounting angle | -180゚~180゚(0.01゚unit ) |
| Mounting range | 50mm ~510mm(L) x 44mm ~454mm(W) |
| Mounting speed (Under the best conditions) | Chip 0.06 s/chip ( ※ 0603: s/chip) ( Type A) |
| Placement accuracy (Under the best conditions) | 1005 placement ± 0.05 mm: Cpk ≧ 1 |
| Object component | ・Component size 0603 chip ~ 24 mm × 24 mm ・The maximum element thickness is 6.5 mm |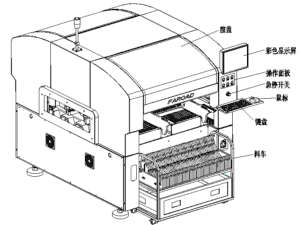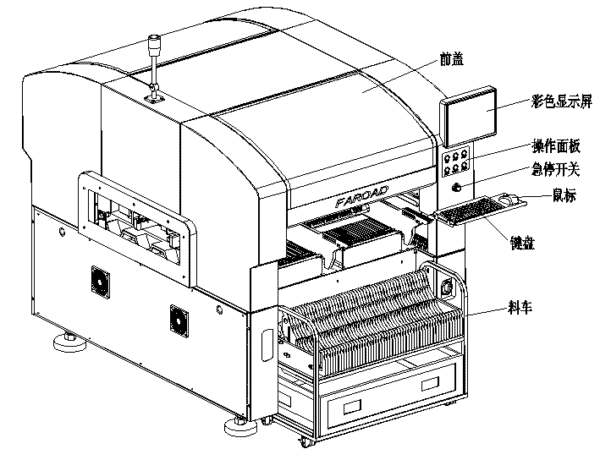 Pick and Place Mahine front view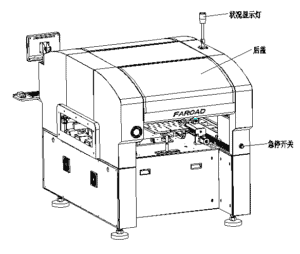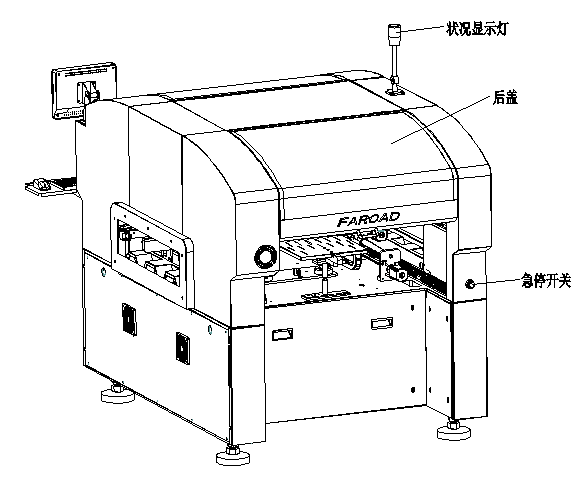 Pick and Place Mahine rear view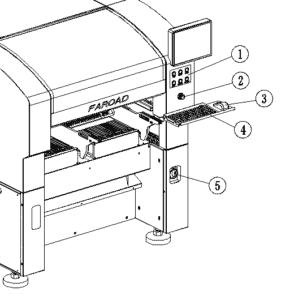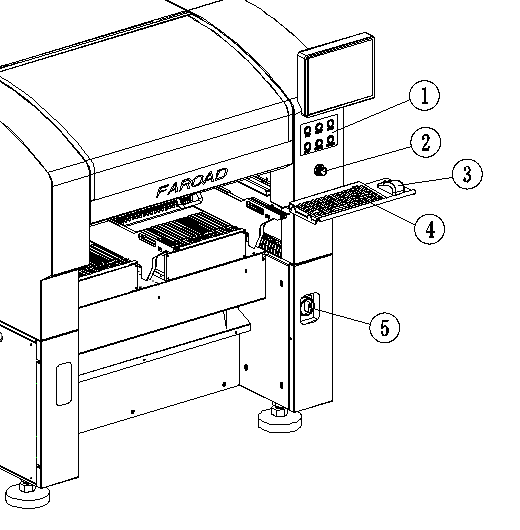 Pick and Place machine Front-Side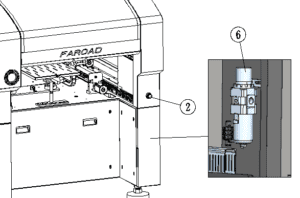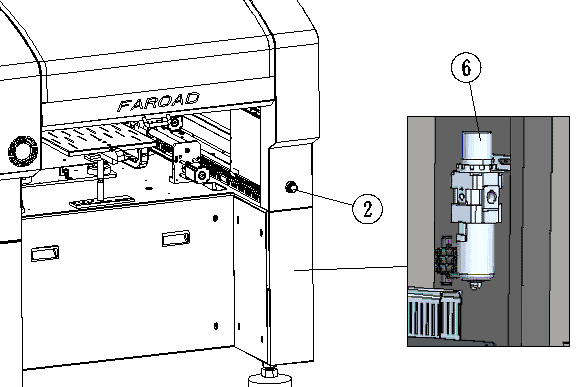 Pick and Place machine Rear-Side
| | | | |
| --- | --- | --- | --- |
| NO. | Device name | Features | Quantity |
| 1 | Operation panel | Perform operations such as starting and stopping the machine | 1 |
| 2 | Emergency stop switch | Press this button to emergency stop. | 2 (1 each at the front and back) |
| 3 | mouse | Perform local operations | 1 |
| 4 | keyboard | Write the program | 1 |
| 5 | switch | Turn the power of this unit to ON/OFF. | 1 |
| 6 | Main pressure regulating filter valve (Inside the cover) | Adjust the supply air pressure. | 1 |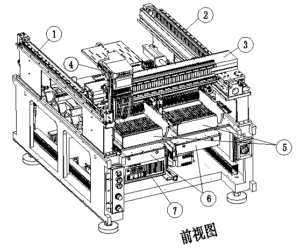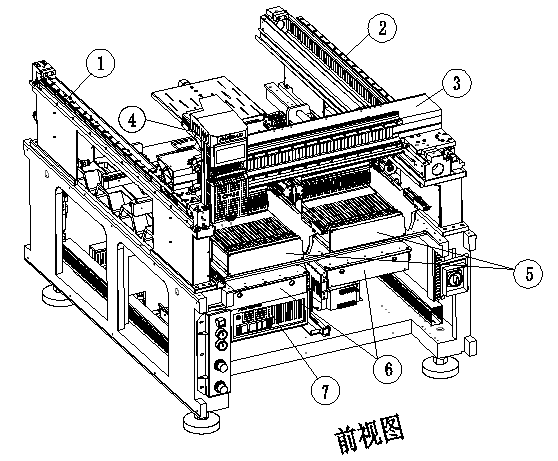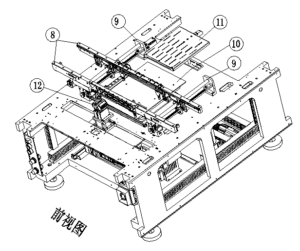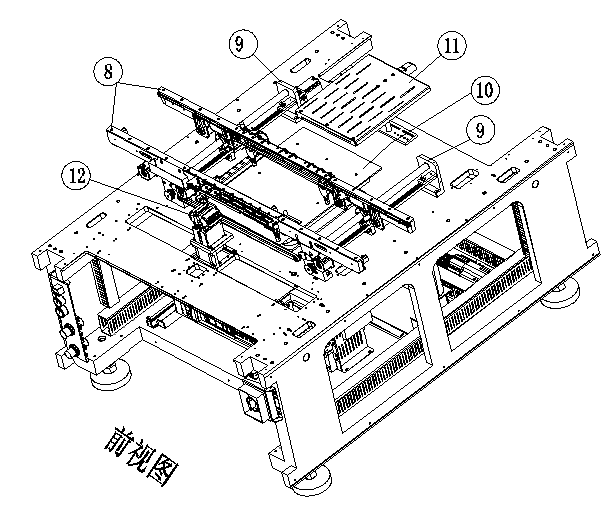 NO.
Device name
Features
Quantity
1
Left Y-axis
Assist the right Y-axis to make a linear movement in the Y direction

1

 

2

Right Y axis

 

Equipped with a linear motor, which drives the left Y arm to move synchronously through the X-axis connection

1

 

3

X axis

 

Equipped with a linear motor, it performs linear motion in the X direction under the drive of the mover.
1
4
Placement head
Move the component from the feeder to the substrate.
1
5

Feeder

 

A device for intelligent feeding of transfer tips.
2
6

Cutter

 

Device for cutting scrap tape.
2
7

Control System

 

Equipment control center
1
8

Substrate conveyor belt

 

Incoming and outgoing substrate device
1
9

Width adjustment device

 

Adjust the width of the substrate conveyor belt.
1
10

roof

 

Hold the substrate from the Z direction to stop the substrate at the specified position.
1
11
tray
A device that stores ICs during the mounting process.
1
12

Line scan camera

 

A camera for identifying components during the reclaiming process.
1
Detailed description of placement head: 
NO.

Device name

Features

Quantity

1

Nozzle 

 

The components are sucked up by vacuum pressure.

8

2

R axis motor

Drive the angle pulley so that the components are mounted at the specified angle.

2

3

MARK camera

Identify the MARK point of the substrate.

1

4

Z axis motor

Drive the nozzle rod to move linearly in the Z direction.

8
Schematic diagram of placement process
Steps:
The substrate is transferred from the upper process
The substrate stops at the origin of the PCB
MARK camera to identify the substrate
Nozzle picks up components
Line scan camera recognizes the picked components
The nozzle moves to the specified position for placement
Substrate out
Crossponding Substrate specifications:
| | |
| --- | --- |
| project | specification |
| Usable substrate size | Maximum: 510mm(L)x460mm(W)/Minimum: 50mm(L)x50mm(W) |
| Mountable range | |
| Substrate thickness | 0.8mm ~3mm |
| Substrate quality | Maximum 3.0kg or less (quality after installation) |
| Allow substrate bending | |